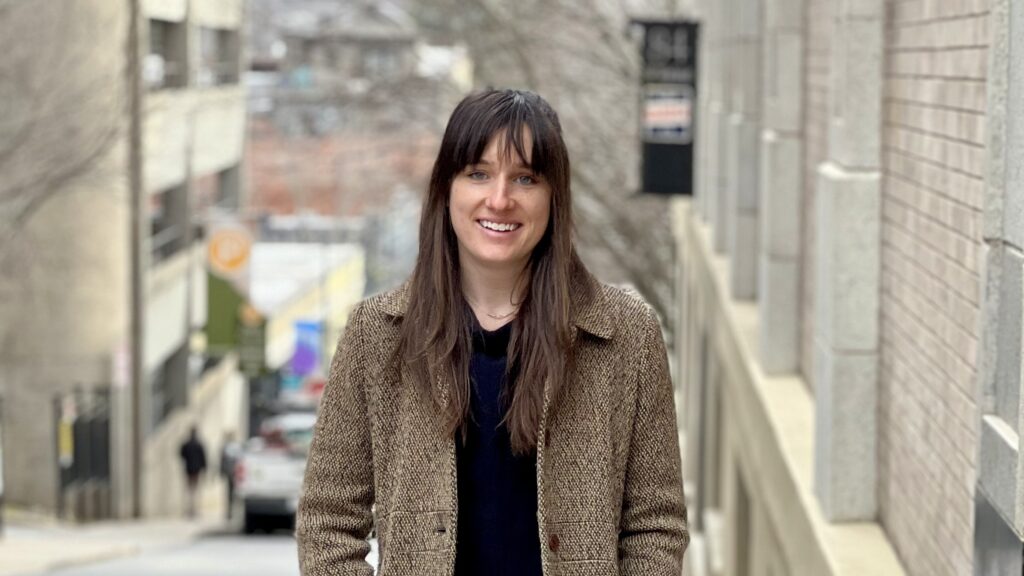 Lanier Hagerty, Analyst
Lanier Hagerty followed an interesting path to Urban3 – from South Carolina, to Washington DC, Beijing, New York City, and back to the south. Along the way, she learned some big lessons about spatial theory, "small urbanism," and the power of place to shape all of our lives.
What is your professional background prior to coming to Urban3?
I was born in South Carolina. That's where a lot of my family is based, although we have moved around quite a bit. I lived in the Midwest for a while and then moved to DC and went to college at Georgetown to study international relations and Chinese. My major was culture and politics, and within that, I was first exposed to what I now know were theories of urban planning and geography. I completely fell in love with it. Space is at the heart of so many issues. It's the problem and the solution to so many different things.
After graduating, I went to work as a corporate investigator with an investigations firm out of DC. I was around really smart, interesting people and ultimately had an opportunity to move to China, which was right in line with things I had been studying and things I'd been interested in.
I ended up moving to Beijing with that firm. I was still doing investigations, which is a totally different animal in China, as you can imagine. I learned a ton from the work and it really gave me an appreciation for detail-oriented research by parsing through some of these dense legal and regulatory documents and doing a lot of work with property assessment data. Property is where a lot of people store wealth. So that was going on in my work life, and in my free time, I was experiencing Beijing for what it is: this urban behemoth that is exploding. I saw urbanism on a whole different scale and pace from what I was used to, and I was constantly calling back on that: what I'd studied as an undergrad in my classes about urban planning and geography and spatial analysis theory. They were really helping me to understand what was going on around me. I came to the conclusion that I wanted to dig into that more and take sort of a spatial focus in my next step in education.
I ultimately applied and moved back to New York to go to Columbia University for an urban planning degree. Two of Columbia's biggest strengths are data analytics and international planning. I wrote my thesis on Chinese investment in a small town in the United States and so I ended up doing a lot of research on small town planning theory. That really kind of opened up a world of urban planning and politics and data and spatial questions at a whole new scale for me. I'd gone from Beijing to New York, where everything was kind of massive with a lot of mutations, but at the small scale, it was fascinating. There was so much different from these big scale urbanism – and so much the same.
What prompted small-scale urbanism as an area of study? Are there any particular takeaways or things that you think about as it relates to the work you're doing now for Urban3?
I was trying to come up with ideas for my thesis and remembered a time when Xi Jinping, when he was still China's vice president, made a trip to Muscatine, Iowa. Muscatine is a teeny, tiny – I mean, 24,000 person – town on the Mississippi River in Iowa. Everyone is thinking: Wait, what? Why is he doing this? What is this place? What's going on?
But people in Muscatine were saying: Oh, yeah, he's back. He had come in 1985, for a research trip, when he was a cultural researcher looking to revolutionize Chinese agricultural production. Xi Jinping had come to research Iowa, since it was this hub of farming and agricultural production, So he rolls through Muscatine, Iowa, and puts this tiny town on the map.
My thesis studied the degree to which this town became a diplomatic touch point for China, not only between US-China relations, but also for Iowa-China relations. There's a huge trade relationship between just the State of Iowa and China. They produce some huge amount of their corn and soy, and there's a lot of cultural exchange programs. My thesis was looking at the economic, the spatial, the diplomatic, the cultural – all of these elements that came bubbling up after Xi's visit.
I think the most interesting part of it for me was the literature review, and looking at what kind of literature is out there on small town planning on the logic of city size, as dictating both urban identities or small town identities. I think the conventional wisdom, baked into so much of planning theory, is that the bigger the city, the better. I think it's just not true and there's so much to be studied in some of these smaller cities. They can be microcosms of larger issues in "big urbanism." For me, it felt like an inversion of scalar dynamics that I had studied and it held true for so long through my planning experience. It just changed my mind in a lot of ways.
How do you describe Urban3 and the work you're doing there?
I think one way I would describe it is, if land is understood as a finite resource, how do you maximize your return on that in a way that is responsive to the environment and meets the needs of every human being that lives on it. I think Urban3 is solving some of these problems by revealing that some of these notions that we've held as conventional or unquestioned for years are really not doing most people any favors.
What would you say to your younger self or anyone who's kind of maybe at the beginning of their college experience thinking about this stuff?
One of the cool things about planning, that I think is a blessing and a curse, is just how interdisciplinary it is. There are very few things that are irrelevant to the profession. The degree to which I'm pulling on past experience and work has so far been a constant reminder of the breadth of the field. When you think about it, of course, that makes sense: we all live in or at least near a town or city. I believe that we are all a product of our space in so many different ways.
Lanier and her colleagues are eager to help you better understand your city's finances so that you can grow with resilience and responsibility. Contact us to learn what we've done for other communities and what we can do for yours.