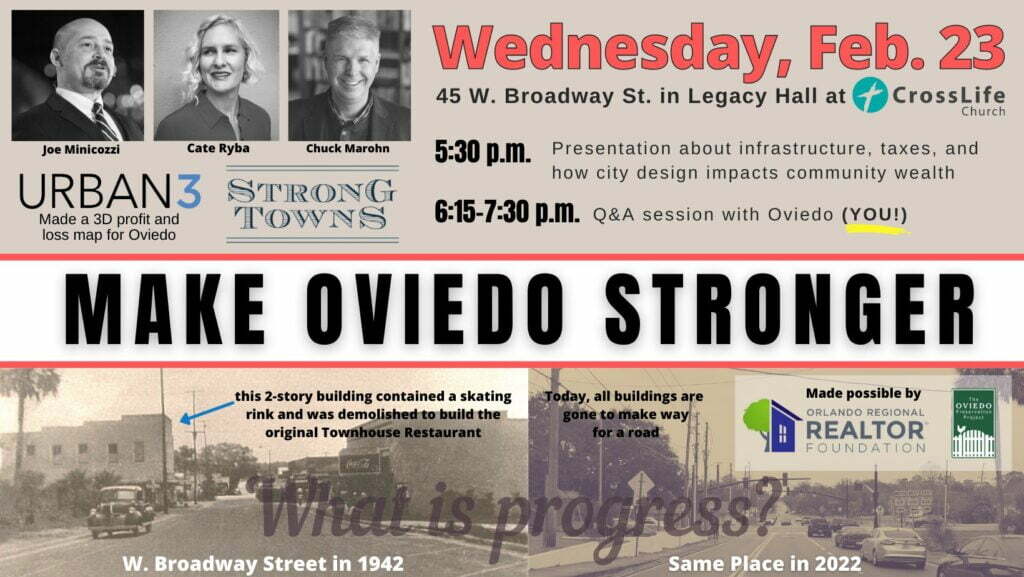 How can a city not have pots overflowing with money if there has been so much growth? How are apartments subsidizing people who live in single-family neighborhoods?
THANK YOU to the Orlando Regional Realtor Foundation for making this event possible!
Joseph Minicozzi (Urban3) pioneered geo-spatial representations of economic productivity, and his work visually shows the economic consequences of land use decisions and the value of well-designed cities. In other words, he's going to explain a 3D profit and loss map of Oviedo.
Cate Ryba is a public policy expert, planner, and urban designer. Cate has worked in a variety of roles developing dynamic programs and projects for communities and nonprofit organizations to celebrate people and place. She is also a former city councilor, as well as a former city economic development staffer.
Charles ("Chuck") Marohn is the founder and president of Strong Towns. He is a professional engineer and a land use planner with decades of experience. He holds a bachelor's degree in civil engineering and a Master of Urban and Regional Planning, both from the University of Minnesota. Marohn is the author of Strong Towns: A Bottom-Up Revolution to Rebuild American Prosperity (Wiley, 2019), And of Confessions of a Recovering Engineer: Transportation for a Strong Town (Wiley, 2021).