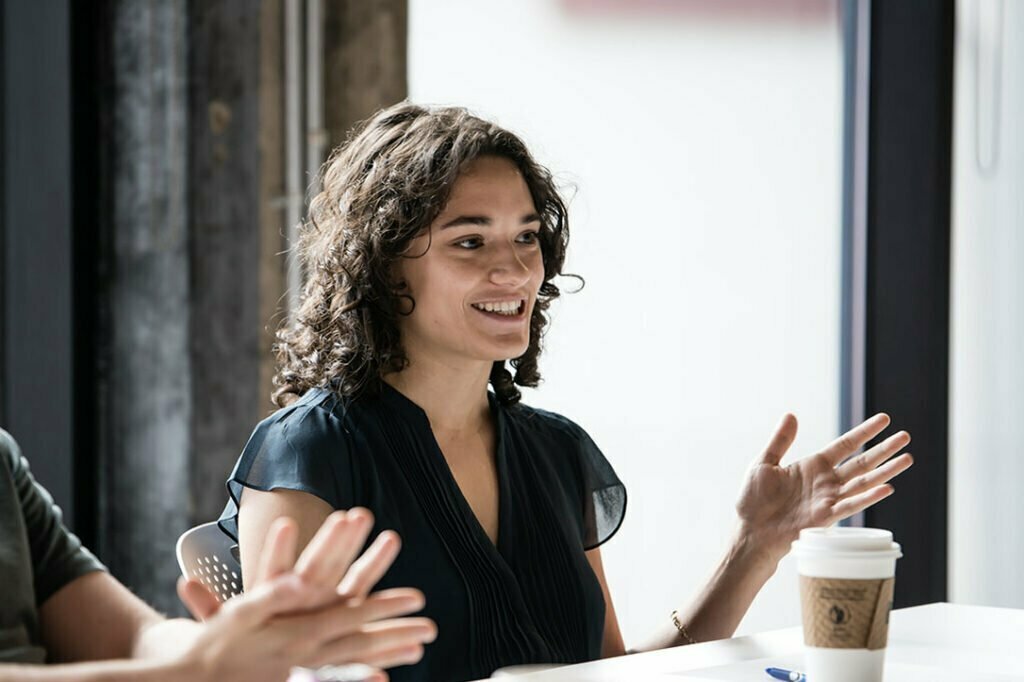 Maxine Eng, Marketing and Communications Assistant
"It's like a big bucket of yarn, and we get to untangle it."
Even in a firm known for its love of metaphors and colorful turns of phrase, Maxine Eng-Diaz has a way with words. Her description of what Urban3 does for its clients is certainly accurate — the firm's analysts spend a great deal of time and energy sorting out and making sense of the knotty and often confusing financial documents that cities keep about themselves. As Urban3's marketing and communications coordinator, Maxine's gift for explaining why this work matters — and what cities are meant to do with the yarn once it's untangled — is invaluable.
What is your title at Urban3 and what do you do?
My current title is marketing and communications assistant. I see myself as right the hand of Cate [Ryba, Chief Operating Officer]. My day-to-day job is filling out proposals and creating project datasheets. I'm also learning more about our different services and how we can make systems into processes. I want to streamline every step of every task so that we can create more value for clients.
What does making 'systems into processes' mean?
It's like cooking — instead of pulling everything out of the fridge and cooking everything at once, which can be very overwhelming, I'm learning what it means to prep everything and in what order. Do I prep the onions first? Do I cook the meat first? Do I make the rice first? Although there are many systems in place, I think we can improve. Urban3 isn't as top-down as a corporate environment — it's more of thoughtful collaboration and everybody has a role to play. Working here, there's that energy of almost like being back in college, where you learn something, go to a study group, and connect the puzzle pieces; everybody here is a puzzle piece, and we're all working on projects together to find what's missing.
When did you start there?
Almost two years ago!
What was your introduction to the firm?
It's a funny story — I was at a yard sale and met a former employee. At the time, I was exploring what I could do with an economics degree (from UNC-Asheville). I had a knack for design and this idea of wanting to create analytics with images, and by chance, I ended up talking to this person who used to work at Urban3, and I realized that's exactly what they did.
I emailed them and asked if I could have an informational interview with them. We connected and they asked me if I wanted to intern with them, and I was like, "Sure!" The rest is history.
What led you to economics?
The way I've found my interest in things has always just been by stumbling upon them and then running with them. When I was in college, I read The Little Book of Hygge. I love organizing things and I've always loved the design. This book was my introduction to analytics and design — lots of pictures, lots of information, easy to interpret. I thought, "Oh my gosh – I want a job like a person who wrote this book." The author was the CEO of the Happiness Research Institute, and I was like, "What? How is this a job?"
It turns out that it's a real thing, and the Institute's team is made up of psychologists, statisticians, sociologists, and economists. So I checked out the economics department at UNC. This was the week before my fall semester was supposed to start, and I changed my entire schedule to accommodate some economics courses. It was a mini "life-quake," but I'm glad I felt it and pushed through.
So you consider yourself an economist? Or a designer?
I'm still figuring that out. I want to explore land economics and urban planning because they fit both parts of me. One skill that I have that I really enjoy is to walk into a room full of stuff — like a room full of yarn — and just string it all together.
How would you describe what Urban3 does?
I work for a consulting firm that looks at a local government's tax numbers, and we create images that create transparency about that. We're given a bucket of numbers and we decipher it for the client and we tell them, "Ok, we did the brain damage, but this is what you need to focus on because we care about your community and your financial future."
Maxine and her colleagues are eager to help you better understand your city's finances so that you can grow with resilience and responsibility. Contact us to learn what we've done for other communities and what we can do for yours.