Urban3 will help uncover hidden biases that may be undermining your community's commitments to fairness and equity in the assessment of property value. While international standards help to prevent unfair property tax assessments, these standards are often hidden in spreadsheets and are filled with industry jargon. The workload and the opaque system can create unsettling values for neighbors which can lead to distrust from your community. Our Equity in Assessment analysis produces visualizations that are accessible and can quickly demonstrate underlying inequities. This analysis can:
Produce jargon-free and easily interpretable data visualizations that help build a common understanding among stakeholders
Can be conducted before, during, or after the re-assessment of property values to help communicate the process, outcomes, and quality control measures to the broader community
Consider the longstanding impacts of racist real estate practices (e.g. redlining, blockbusting, restrictive covenants)
Help inform public policy adjustments that produce more equitable property assessment practices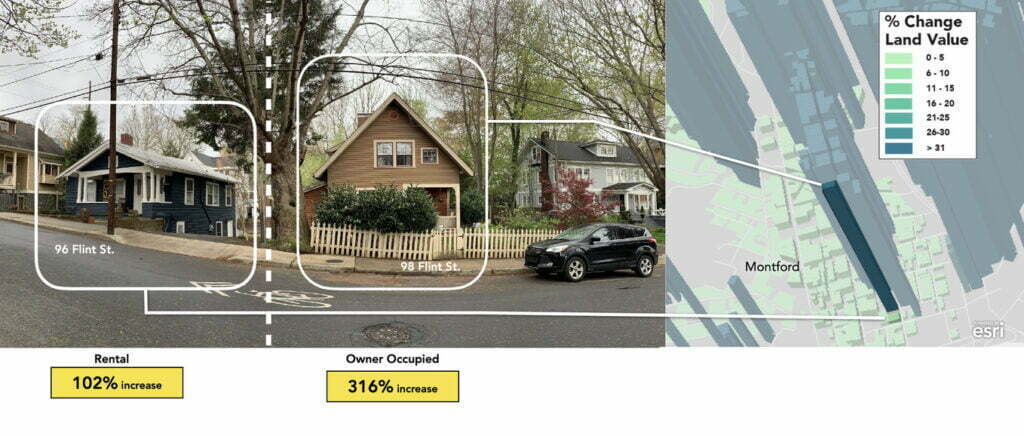 Our research suggests that there are long-standing racial inequities in property tax administration that place unfair financial burdens on communities of color. These disparities may have impacts on housing affordability, gentrification, displacement, household economics, and ultimately a driver of community health disparities. If you want to learn more about our current Buncombe County Assessment project, click here. Learn more about redlining, reparations, and reassessment here.