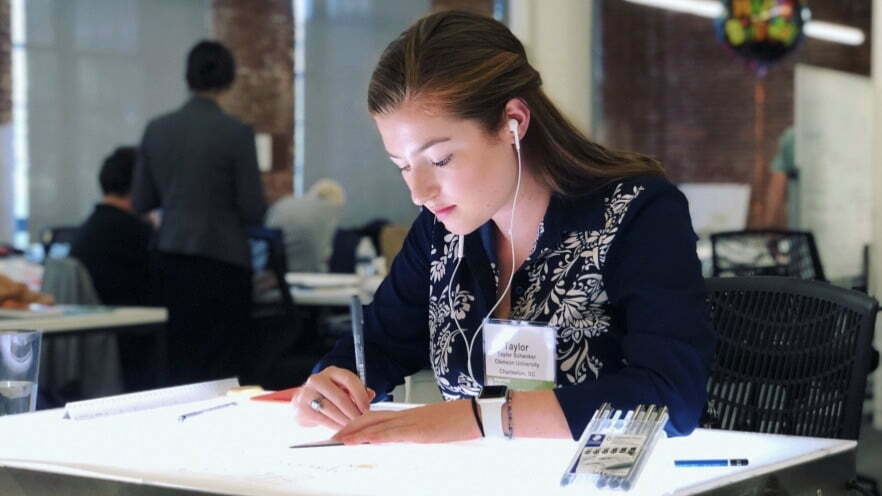 Taylor Schenker, Analyst
Taylor is one of Urban3's newest analysts — a designer, an educator, a self-proclaimed data nerd, and a professional who is as passionate about creating the future of resilient cities in the face of climate change as she is cheering her beloved Clemson football ("FIGHT Tigers! FIGHT Tigers! FIGHT FIGHT FIGHT!")
What is your background prior to coming to Urban3?
My undergraduate degree is a Bachelor of Science in Economics and I have a minor in architecture from Clemson University, which I'd originally considered because I wanted to be an engineer. When I was an undergrad, I did a semester in Washington, DC learning about policy. I spent the summer in Panama learning about building sustainable communities from scratch. I did my architecture minor in Italy, over one summer, and I did another internship with their institute of entrepreneurship. I loved economics because it was more of a way of thinking and researching, and you could study anything under that umbrella and figure out the root of all different problems, whether they be financial, environmental or social.

By the time I was getting ready to graduate, I was frustrated. I felt like we would dive into this data, we do a lot of calculus and figure out why certain things were the way that they were, and then we would write a report about it — and it would be done. And I wanted to have a more like, hands-on approach to solving some of those issues. So I decided to pursue a Master's degree in Resilient Urban Design. It's also a Clemson program but based in Charleston, which really allowed me to use my creative skills, along with my research skills, from economics to solve some of these problems in real life.
What was your introduction to economics like? Was it love at first sight?
I first changed my major, from engineering to a program that was called "environmental and natural resource economic policy," which is a real mouthful. That had the threads of sustainability that I had always been interested in and data and, you know, real-life implications. I just took Introduction to Microeconomics, which — fun fact — happens to be the most failed college course in America. I thought it was fascinating; it was my favorite class. I just thought everything was so interesting to me because I could dive into the data, but it was, like, math about real life.
You also have a background in data visualization and using design to tell stories. Where did that originate for you?
When I was in graduate school, I was wanting a creative outlet and a way to make a little bit of extra money on the side, so I started just doing some graphic design work. My mom has worked in marketing her whole life, so I've kind of had a backseat to that work. I would just help people with their branding and web design and stuff like that. Then I continued doing that even after I graduated and I could pick up more projects when they were fun to me, or when I felt like I really connected with the brand or the business.
Then during the summer of 2020, there were a lot of social movements happening around the murder of George Floyd, and I knew that I wanted to be part of the conversation, but that it wasn't necessarily my place to be the loudest voice. I thought back to something one of my good friends said to me when I was in Washington D.C., which was: "Everyone is going to make the biggest impact when they're using their skills and doing something that they care about." There are some things I can't do, but I can use my creative skills. That's when I started diving into city budgets and finding ways to visualize that data so that it was more accessible to people because that's always been something I've been passionate about. That led to other opportunities like freelancing work and different data projects and, ultimately, Urban3.
What first appealed to you about working for Urban3?
During graduate school, I interned for the City of North Charleston and one of their project managers was at Joe [Minicozzi] 's presentation that he had done for the Charleston metro area. That was one of the things he told me to watch and I thought it was fascinating, so I kind of started following them. I had always noticed this kind of economic illiteracy in designers. Like a lot of financial people and economists and developers, there's a lot missing — like all these sides that aren't communicating super well. I think Urban3 does a great job of fitting in the middle and like filling that gap and getting each side to understand the others a little.
What are you most excited about working on now?
I love the kind of infrastructure work that Urban3 has been doing. I think that's super interesting to help cities figure out what infrastructure they're building that they're going to be able to maintain and pay for going forward. In coastal cities, in particular, there's a lot of big infrastructure projects being proposed and we're at this really interesting position in life right now with sea levels rising were, for the first time ever, we're having to invest tons of money to just maintain what we have to grow and build more. That's a cost that our current economic system isn't really built to be able to manage or to pay for. So I would love to use a lot of Urban3's analysis to help cities figure out where it makes sense to protect things and where it makes sense to retreat, and how to help pay for those larger infrastructure projects as they relate to mitigating climate change.
I grew up in Maine. So I've always been super interested in the environment. That's been kind of a key piece that's relevant in everything that I've done, especially living in Charleston. That was really important to me to study coastal cities and how they were dealing with resilience.
How did you get from Maine to South Carolina?
I was looking for a school with great college football (laughs.) My mom went to the other USC (University of Southern California) so I grew up a huge football fan, and that was something I was looking for when I went to college. You could say I went looking for college football and ended up with a career in resiliency planning.
Taylor and her colleagues are eager to help you better understand your city's finances so that you can grow with resilience and responsibility. Contact us to learn what we've done for other communities and what we can do for yours.