I am super excited about speaking as part of a group of amazing women at the upcoming CityBuilding Exchange conference in New Orleans, November 15-17. More info on the event here.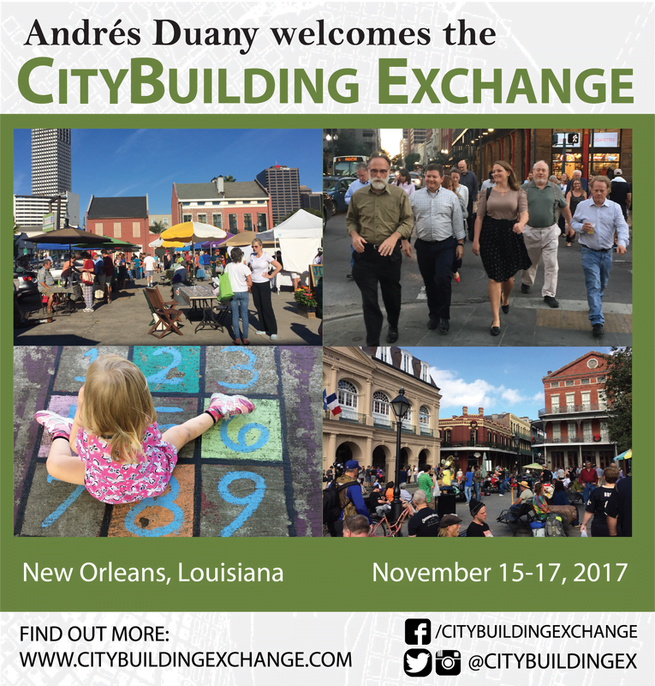 I've never been to New Orleans, which is kind of hard to believe, since I'm from the South and I love beignets. I had just finished my planning and urban design masters when Hurricane Katrina decimated the city. I closely followed the rebuilding efforts, including the Katrina Cottages, brought to the city by New Urbanists (and Brad Pitt, if I remember correctly). Urban3's principal, Joe Minicozzi, had a hand in inspiring these "Hurricane Houses", having designed and built a similar one at the University of Miami 14 years earlier. But that is a great story for another blog post.
In 2015, I heard this podcast interviewing various New Orleans residents, 10 years after Katrina. There are heart-rending stories of people drowning in their houses; of others left with absolutely nothing and finding themselves begging for the first time in their lives just to feed their toddlers; of a cafe reviving against all odds to become a community center for a broken neighborhood.
"On the surface, it looks like the really typical story of gentrification. And as a country, we are terrible at that, at figuring out how to improve the neighborhood without fundamentally altering it and displacing the people who live there. There are always losers. But what's especially harsh here in the Lower Ninth is that this is happening in a place where so much loss has already come before it.

— Sean Cole, This American Life
But, the story that interested me most from a planning standpoint is in Act 5. Sarah Debacher and her husband moved to the Lower Ninth Ward a few years after Katrina. Sarah immediately got involved with the neighborhood association (love her Strong Towns activist spirit!), and became popular enough to be elected vice president and then president of the association. Sarah is white, and pre-Katrina, 88% of the Lower Ninth was African American. The story follows her as she advocates against a condo project at a planning commission meeting, including showing both sides of how a neighborhood can react to gentrification. Some longtime residents want the project, others don't. Sarah has to navigate the needs of a rapidly changing community, and also be cognizant of her place as a white woman and a newcomer. She also navigates the day-to-day experience of being a gentrifier herself (albeit, also someone just looking for affordable housing as a school teacher). It is a fascinating and difficult listen – I highly recommend it.
I'm really looking forward to hearing the perspectives of the presenters at the CityBuilding Exchange, and to meeting the incredible and resilient city of NOLA!!
Two more awesomely geeky, civic data-related things about New Orleans:
They have gamefied their City Budget! Move money around based on your personal priorities and see who loses out!
Wondering when that never-ending paving project will end? You're in luck, the City updates infrastructure construction projects in real time on a website.