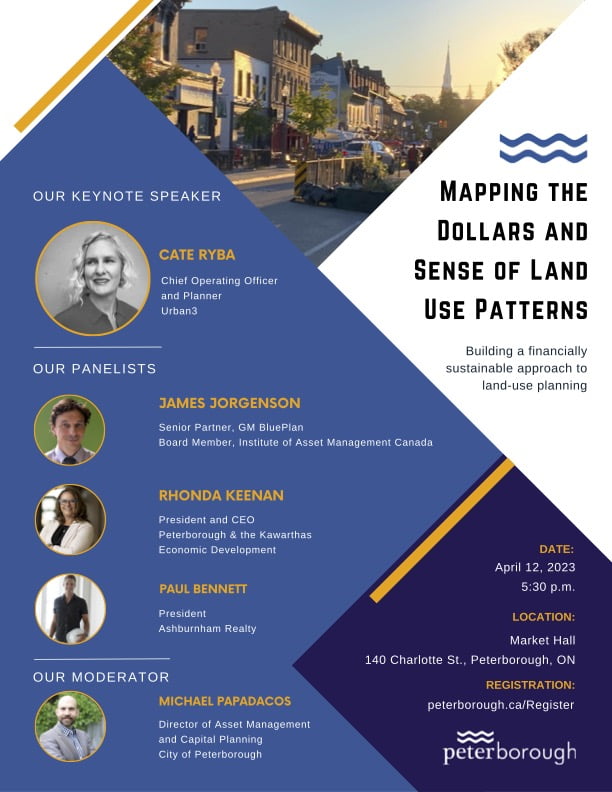 The City of Peterborough will host "Mapping the Dollars and Sense of Land Use Patterns," a discussion about financially sustainable approaches to land use planning, on Wednesday, April 12, 2023, beginning at 5 p.m. at Market Hall, 140 Charlotte St. Peterborough.
Hosted by the City's Infrastructure and Planning Services team, the session will explore land use concepts aimed at ensuring the efficient use of infrastructure and properly projecting costs over the lifetime of an asset, with a goal of alleviating funding shortfalls.
Registration is available online at peterborough.ca/register. Pre-registration is required as seating is limited.
The keynote speaker will be Cate Ryba, Chief Operating Officer and Planner with Urban3 who has extensive experience with local government finance and policy, urban design and economic development. Cate is a founder of the Building Our City lecture series, which features national experts on urban design, planning, placemaking, transportation and other community development topics to explore the role of thoughtful design in building livable communities.
The session will include an expert panel discussion featuring James Jorgenson, Senior Partner with GM BluePlan and Board Member of the Institute of Asset Management Canada, Rhonda Keenan, President and CEO of Peterborough & the Kawarthas Economic Development and Paul Bennett, President of Ashburnham Realty. Michael Papadacos, Asset Management and Capital Planning Director with the City of Peterborough will moderate the discussion.
Brad Appleby, the Planning, Development and Urban Design Director, and Michael Papadacos, the City's Asset Management and Capital Planning Director encourage everyone interested in land use, development, infrastructure management, and sustainable communities to attend.
"Whether you're a developer, a builder, a planner or someone who is interested in the future of the City of Peterborough's infrastructure management, we encourage you to join us on April 12."
"We understand from data that some types of development cost the City more than other types due to their long-term infrastructure needs and we are facing a significant funding shortfall to maintain these important assets in a state of good repair. This session will inform how to quantify those costs to help make better capital improvement decisions for building roads, maintaining pipes, and other infrastructure investments. When residents, developers and municipal representatives can clearly define the cost of development, we can make data-driven decisions together to ensure a prosperous and vibrant future for our community."